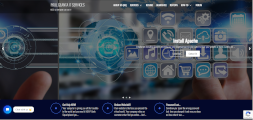 Your website is the face you present the virtual world. Your company relies on customers that find you online…. And now it is broken. Broken images, pages not displaying properly or even worse … just an empty page!
Contact us using the chat system or the contact us form and we will get to work right away to fix any problem. With 15 years experience in development, system administration and database administration, no task is too complicated.
Your site will be back online in no time!